Characteristics:

GF/TO-Series Heat Transfer Medium for indirect Circulation System, with both cooling and heating capabilities, is the required system for enhancing the effectiveness of the main unit's




With both heating and cooling functions.
A substitute for steam boiler: Safe, inexplosive and high heat efficiency.

Description:

Suitable for the temperature control of extruder for precision extrusion process and heat-sensitive plastics, such as PVC.
Suitable for the internal temperature control of high-speed extruder and extruder screw for heat-sensitive plastics (The screw can be easily broken with cooling water).
For the temperature control of plastic injection molding machine for thermosetting plastics, such as bakelite and melamine.
For the mold temperature control of precision injection molding machine, injection molding machine for thin-wall applications, or high temperature engineering injection molding machine.
For the temperature control of rolling machine and plastic board molding wheel.
For the mold temperature control of rubber and plastic compression molding machines.
For the temperature control of heating plate, which is used to dry raw material or finished products.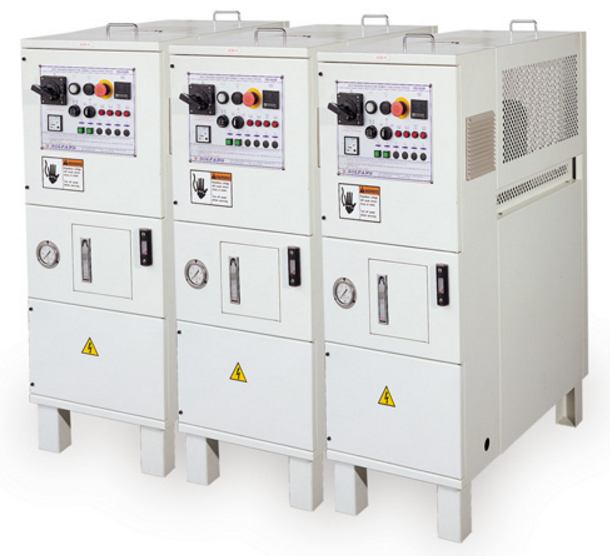 | | | | | |
| --- | --- | --- | --- | --- |
| Model No. | UNIT | CF/TO-3SA | CF/TO-3SH | GF/TO-6 |
| Heater Capacity | kw | 12.5 | 11.4 | 23.3 |
| Motor | kw(HP) | 2.2(3) | 1.1(1.5) | 3.0(4) |
| Pump Output - 3.5Bar | l/min. | 55 | 25 | 100 |
| Pump Output - Max. | l/min. | 80 | 60 | 150 |
| Tank Capacity | l | 9 | 9 | 20 |
| Transfer Medium | - | Thermal Oil | Thermal Oil | Thermal Oil |
| Operating Temp. | °C | 185 | 240 | 240 |
| Machine Weight | kg | 130 | 130 | 260 |
| Overall Dimension | mm(L*W*H) | 925* 425* 1000 | 925* 425* 1000 | 1100 *500 *1255 |
Single-Stage Injection Blow Molding Machine, Injection Blow Molding Machine , Injection Blow Moulding Machine, Injection Stretch Blow Molding Machine, Injection Blow Molding, Blow Molding Machine, Blow Moulding Machine, Single Stage Blow Molding Machine